CureTogether is 1 year old this month! To celebrate and thank our amazing members and supporters, we're giving away free T-shirts.
Create a video (under 1 minute) on how you cured yourself, how CureTogether has helped you, or any cure-related theme. The best 20 videos get this beautiful T-shirt!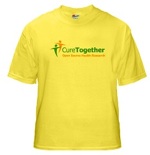 To enter, upload your entry to YouTube or any video-sharing site by August 13 and send the link to Alexandra at alexandra@curetogether.com.
Good luck!
News Update
CureTogether was also mentioned in these articles recently – many thanks to the authors and readers who keep encouraging this work!
Wired: "Know Thyself: Tracking Every Facet of Life, from Sleep to Mood to Pain, 24/7/365"
Wall Street Journal: "Health Data Proves Contagious on Social Media"
Brainandspinalcord.org: "A Novel Approach to Self-Empowered Healthcare"
You can follow any responses to this entry through the RSS 2.0 feed. You can leave a response, or trackback from your own site.